About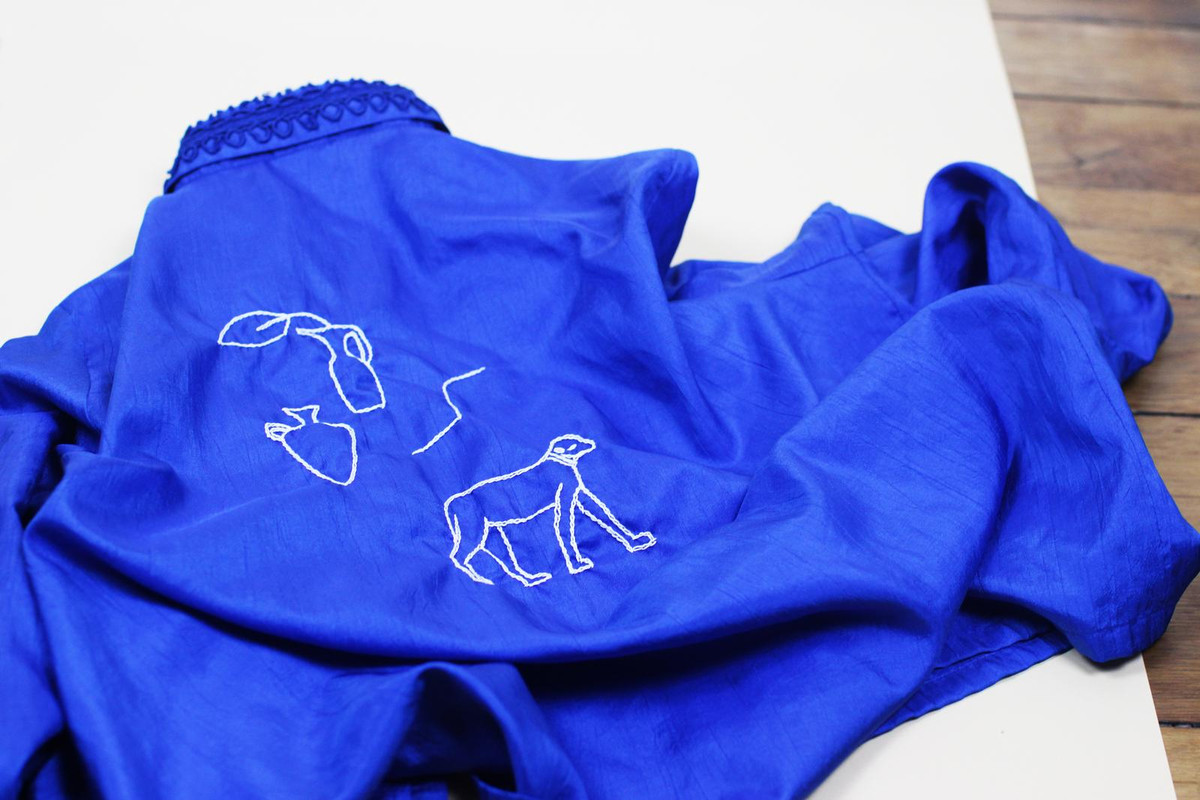 TOSEW c'est une marque de vêtements brodés. Je brode des thématiques qui me correspondent et donne à TOSEW une harmonie. Toujours au point chainette, et sans remplissage. Les broderies sont réalisées à la main
Graphiste d'origine, c'est une manière d'aborder le textile comme le dessin, tatouer le tissu, à l'infini. Mes influences sont nombreuses mais s'entrecroisent. Des nus bleus de Matisse à la Grèce antique en flirtant avec l'univers Disco de Christophe Laurent.
Il est possible de réaliser des commandes personnalisées. En effet, si l'univers de la marque vous séduit mais que vous n'y trouvez pas votre compte, il est possible de me faire part de vos idées. Un cadeau, un projet de toute sorte je propose de vous accompagner pour le réaliser.
// MYTHOLOGIE DIGITALE //
Ce qui s'apparenterait à une nouvelle collection, est en fait un changement de cap. Une nouvelle identité. Si la marque conserve son univers graphique inspiré des temples à colonnades, de l'univers Memphis ou encore Art-Deco, c'est dans son concept qu'elle évolue.
En effet, les vêtements proposés seront désormais issus de l'Upcycling. Ce qui signifie que leur création sera basée sur un vêtement issu d'une friperie.
L'objectif : s'inscrire dans une consommation raisonnable et réfléchie tout en décuplant la valeur unique du vêtement. Je chine pour vous des pièces de qualité et en bon état, pour ensuite leur donner une seconde vie en les transposant dans un nouvel univers. Le fil d'Ariane de la nouvelle identité TOSEW.
-
TOSEW is a brand of embroidered clothing. I embroider themes that match me and gives TOSEW a harmony. Always in the chain point, and without filling. It's handemade embroidery.
Graphic designer of origin, it is a way to approach the textile as the drawing, to tattoo the fabric, to infinity. My influences are numerous but intersect. Blue nudes from Matisse to ancient Greece while flirting with Christophe Laurent's Disco univers.
It's possible to make custom orders. Indeed, if the world of the brand seduces you but you can not find your account, it is possible to share your ideas. A gift, a project of any kind I propose to accompany you to achieve it.

DIGITAL MYTHOLOGY
What looks like a new collection, is actually a change of course. A new identity. If the brand keeps its graphic universe inspired by colonnade temples, the Memphis universe or Art-Deco, it is in its concept that it evolves.
Indeed, the proposed clothing will be from the Upcycling. Which means that their creation will be based on a garment from of thrift shop.
The goal : be part of a reasonable and throughtful consumption while increasing the unique value of the garment. I select for you parts of quality and in good condition, then give them a second life by transposing them into a new universe. The breadcrumb trail of the new TOSEW identity.